Do you know what is a difference between espresso and coffee? First of all, we all know both are products from coffee beans. Even though they are made from coffee beans anyway they are two different drinks.
If both are drinks prepared from coffee beans, it doesn't mean they are the same. Yes, simply you can call them both with one common word – coffee, but any coffee cannot be called an espresso and that is for sure.
Maybe the roasters have a special way of roasting the coffee beans that can be used for espresso. But, however, mostly they prefer to use high-quality coffee beans of Robusta to increase the content of caffeine. There is no special type of coffee bean for brewing espresso. The espresso can be prepared either from Robusta or Arabica coffee beans.
If you didn't know, there are many different ways for the preparation of coffee like for example: Pour Over coffee, French press coffee, drip coffee, stovetop coffee and so on.
What Are the Key Main Factors for Preparing a Coffee?
There are three key main factors for preparing whether you want a regular cup of coffee or a shot of espresso and they are – The Brewing Method, The Pressure and The Size of The Coffee Grounds.
The Brewing Method
The major difference between the regular or drip coffee and espresso is the brewing process. For preparing the coffee the gravity is used to make the water to go through the coffee ground and filter to finish into your coffee mug as a final destination.
For preparing a regular drip coffee, the coffee beans should be ground at the medium coarseness. So when the hot water using the gravity drips down into the coffee will be able slowly and better to extract all delicious flavors without breaking the particles.
But when it comes about espresso, the process looks similar but is way more complicated than you think. First to make espresso definitely you will need a quality espresso machine, without it you cannot make espresso for sure. For this type of coffee, you will need finely ground coffee that will allow more efficient brewing of an espresso shot. The espresso machine has the ability to pressurize the hot water through the ground coffee to extract all essential flavors in a short time.
The Pressure
The pressure is what makes the big difference between preparation the regular drip coffee and espresso. The pressure is the main key factor for quick brewing the coffee grounds to deliver a strong and rich coffee with a nice and thick crema.
From the other side, filtered coffee is using gravity to make the water to go through the coffee ground and filter to finish into your coffee mug as a final destination. The pressure also is used to push the water through the ground coffee in some of the other methods of preparing coffee like a French press and Moka pot. But that pressure, you cannot compare at all with the pressure that is used into the espresso machines which is measured in atmospheric bars.
Most of the espresso machines by default are able to produce a pressure of 9 bars and to give you a real comparison of how much is that pressure extremely high, that's identical to 130 pounds (about 58.96 Kg) per square inch which is really extremely high pressure. That is why the espresso machines can deliver quickly a strong espresso shot.
Other Important Factors for Preparing a Nice Cup of Coffee
The Ground Coffee
After the brewing method and pressure, the size of the coffee grounds is the next major factor for brewing a perfect coffee whether you want a drip coffee, French press, espresso or any other type of a coffee drink.
For preparing an espresso as I mentioned before you will need a finely ground coffee. You can use Robusta or Arabica coffee beans, but for a perfect espresso shot is recommended to be used roasted Robusta coffee beans.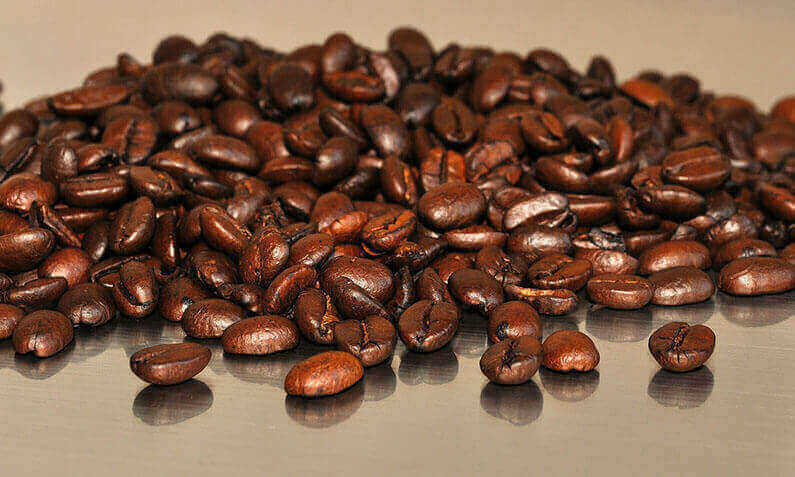 The Roasting
In order, the coffee beans to be used for preparing coffee drinks, first of all, they need to be roasted. The coffee beans for espresso need to be roasted until they get a very dark color, that gives them the ability to withstand the high pressure during the brewing process into the espresso machine. The dark roasted beans also give a full body to the espresso with rich and strong flavors and low acidity.
Slowly roasted coffee beans at a lower temperature are excellent for preparing other types of coffee drinks like a Drip Coffee, Pour Over or French Press and they give lighter, fruity and sweet flavors with lower acidity to the coffee.
Drip Coffee
The serving size of one regular cup of coffee is 8 oz (about 236ml) and it contains about 70 to 140 mg of caffeine. Because the coffee passes through the filter many of the flavors and the natural oils are filtrated.
The brewing time varies and depends on the coffee machine is used and it can be from 3 to 5 minutes and it depends on what type of brewing machine you will use. You can drink the coffee in a mug of any size and it's up to you. Also, depends on how you want to enjoy the coffee black, with sugar or you can add some milk. Also for a regular coffee, you may use any type of coffee beans.
Related: Hamilton Beach 49980A Drip Coffee Maker Review
Espresso Coffee
The serving size of one espresso shot is 1 oz (about 30 ml) and it contains about 30 to 50 mg of caffeine. It has a rich, strong sometimes a bitter flavor with a thick layer of coffee foam (usually called as a crema) on top.
Because of the high pressure during the brewing process for delivering one shot of espresso, it's going to take about 20 to 30 seconds. Normally it is served in a miniature coffee cup with a capacity of 1oz to 2oz (30ml to 60ml). The espresso serves as a base for many famous coffee drinks like Latte, Cappuccino, Moche, Americano and so on.
Related: Breville Barista Express BES870XL Espresso Maker Review
Different Types of Espresso Shots
Besides the single espresso shot, as well can be prepared other types of espresso shots with a greater concentration of caffeine for the satisfaction for those who need to boost the level of caffeine in their body.
Doppio: it is a typical double shot of espresso with about 2 ounces (60 ml) of espresso.
Ristretto: As the name says triple shot which is not the case, actually it is an espresso shot under 30 ml (under 1 oz) with a greater concentration of caffeine.
Lungo: It is actually a double shot of espresso, the same like doppio but with more concentration of caffeine.
Macchiato: it is a double shot or 2 ounces of espresso with a dash of foamed milk.
Cafe Noisette: Here we have a mixture of a double shot of espresso and 1 oz (about 30 ml) of steamed milk
Different Coffee Drinks Based on Espresso
Besides different shots of espresso also, it can be prepared different coffee drinks based on espresso and those are:
Cappuccino: this widely known drink is made of double shot or 2 ounces of espresso topped with 2 ounces of steamed milk and another 2 ounces of foamed milk.
Dry Cappuccino: it is similar to a regular cappuccino made off equal parts of espresso and foamed milk with less steamed milk.
Americano: it is a mixture of two ounces espresso (double shot) and three ounces (about 90 ml) of hot water.
Mocha: it is a drink for coffee and chocolate lovers and it is made from 60 ml espresso, 50 ml of chocolate and 30 ml steamed milk.
Latte: This is more milk-based drink which is made from two shots of espresso (about 2 ounces), 10 ounces of steamed milk and topped with a tiny layer of about 2 ml foamed milk.
Breve: this is a rich and creamy coffee drink, and it's made of a double shot of espresso and a triple shot of a half and half.
Cafe Con Hielo: is about a double shot of espresso poured over ice.
Cafe Panna: This is a dessert espresso which is actually a double shot of espresso topped with about 90 ml (3 oz) of whipped cream.
Affogato: This is another like dessert espresso and is preparing of a double shot espresso and 3 oz (about 90 ml) of vanilla cream.
Flat White: this coffee drink is for those who don't want the strong coffee flavor and it is made from a double shot of espresso and 4 oz (about 118 ml) of steamed milk.
The Final Thoughts
So, to sum up, on the question: what is a difference between espresso and coffee? The espresso actually is an Italian style of fast delivering under high pressure a rich and strong small amount of coffee with a high percentage of caffeine. Usually is used finely ground coffee beans of Robusta.
The coffee is actually hot water that is using the gravity to pass through the coffee and the filter and slowly dripping and extracting the flavors into a coffee cup or a glass carafe. You can use medium ground coffee beans from Robusta or Arabica.