Delonghi ew7707cm heater is for those who are looking for a quality and reliable oil-filled radiator space heater that besides heat also offers safety for an affordable price. Actually, Delonghi ew7707cm is one of the most popular oil-filled electric heaters for less than $100.
Delonghi EW7707CM is a high-quality oil-filled space heater that provides great additional space heating for small and large areas. This heater offers 3 heating modes such as low, medium, and high including the ComforTemp setting, so you can easily and simply set the optimal temperature in your room. In addition, this oil-filled heater comes with durable wheels, advanced safety features, an affordable price, and is energy efficient.
What We Like
The heater works silently which is a great option to be used in your bedroom or home office.
The seven permanently sealed fins filled with diathermic oil which you never have to change the oil
The anti-freeze option that will automatically turn on the heater in case if the temperature in the room drops below 44 Fahrenheit (about 6.66 Celsius)
The heater will automatically turn off when the heater becomes too warm
The heater work noiseless
The heater comes with three heat settings for better control of the heating of your room
The Heater comes with pre-assembled snap-in wheels for easily moving the heater through the house
What We Don't Like
The heater doesn't feature a fan to speed up the spreading the heated air throughout the room
Delonghi Oil Filled Heater EW7707CM Review
The DeLonghi EW7707CM oil-filled space heater is an improved and modernized version of the classic oil-filled space heater. It has capabilities quickly to heat up any type of room, beginning from a small to a medium-sized room and it can be used as well for large rooms with great efficiency without excessive use of electricity. Let's see what makes this product to be one of the best oil-filled space heaters.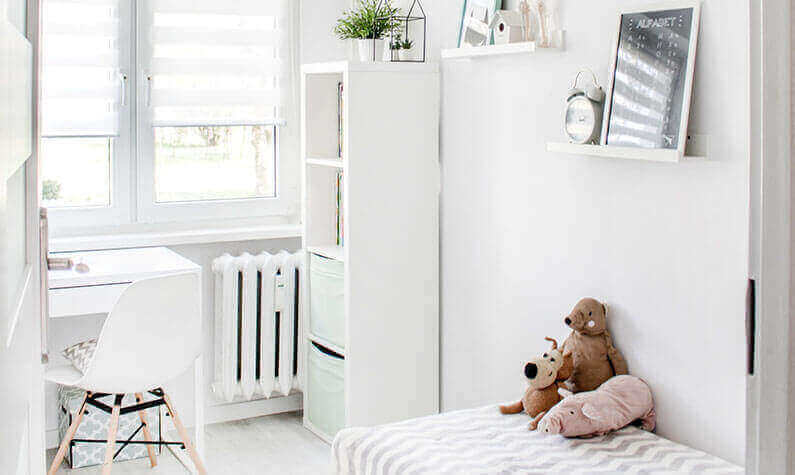 The Main Features of the Delonghi EW7707CM Oil-Filled Radiant Space Heater
Maintenance-Free System
This Delonghi radiant heater is a very attractive model for customers because you don't need to change out the oil. Actually, this radiant heater has seven thermal slots that are filled with oil to provide constant and effective heating using the technology of the ComforTemp system. The oil that is used in this type of radiant heaters is pure diathermic that gives the ability to the heater to deliver stable and efficient heating all the time.
Comfort Temp Technology
Thanks to its Comfort Temp technology the Delonghi EW7707CM radiant heater is able to maintain an optimal temperature in your room. With just a push of a button, you are able to set the heater to power-saving mode. You have the ability to set the heater to keep your room temperature from 68 to 70 Fahrenheit, even the heater has a built-in function if the temperature in your room drops below 44 (about 6.66 Celsius) Fahrenheit will automatically turn on the heating.
The Safety Features
In addition, this heater has a very important feature and it is an anti-freeze setting. Its main task is not to allow very low temperatures in your home and to damage water pipes, electronics, and other low temperature-sensitive appliances.
The heater also offers you three precise heat settings to make your living space cozier during cold weather and they are:
Minimum Heating – 700W
Medium Heating – 800W
Maximum Heating – 1500W
For those people worried that their children and pets could be harmed by their heaters, this heater has implemented advanced safety features.
This Delonghi radiant space heater comes with a specially designed housing to minimize the temperature of its surface which protects the heater from overheating and at the same time efficiently to spread the heat in your room.
Another safety integrated feature in this oil filled space heater is the automatic thermal shut off system. So, whenever you have a need to move the heater from one to another place in your home, the heating process never will be interrupted.
Remember: always when you need to use this Delonghi EW7707CM space heater, it needs to be only in an upright position. Any other position may be dangerous.
Silent Operation
Also, I have to mention besides its safety features this oil filled radiant heater has the ability to operate silently. Its silent work will be almost unnoticeable from any family member in your home, no one will be disturbed no matter what they do. This makes this heater ideal for those who have small kids, especially babies.
This Delonghi oil heater isn't a large appliance; it comes with SmartSnap pre-assembled wheels so you can easily move wherever you want. Because of its small dimensions, the heater can easily be stored when you don't need to use it.
RELATED: Dr. Infrared Heater DR968 Review
 The Main Features and Specifications of Delonghi EW7707CM

 Type: oil-filled electric space heater
Power: it is rated from 700 to 1500 Watts
Heating Levels: this space heater comes with three levels of heating like automatic, low and high
Safety Automatic Shut-Off system
Safety Thermal Cut-Out function
This space heater comes with 6 feet (about 1.82 Meters) long cable
The dimensions of this space heater are 24.9 inches high, 13.8 inches wide and 5.9 inches in depth
Its main weight is 23.1 pounds (about 10.47 Kg)
Conclusion
Overall Delonghi EW7707CM is an oil-filled multi-purpose space heater with the ability to heat up large rooms and to maintain a constant temperature with many safety features including anti-freeze, automatic shut-off, and thermal cut-out. Also, we need to mention that Delonghi ew7707cm heater works noiselessly which is ideal to be used in a bedroom or home office.