The Igloo BMX 25 is a beautifully designed personal cooler that will surprise you with its longevity, portability, thick insulation, easy usability and a price well below its competitors. He may not be the best personal cooler, but he is still a pretty solid choice for everyday short outings such as beach day, barbecue and fishing.
What We Like
Very affordable cooler
Quite lightweight
Thick insulation on the walls
The storage capacity
Pretty portable cooler
Ergonomic carry handle
What We Don't Like
The cooler doesn't have a rubberized gasket
It doesn't feature a drain plug
Low quality of the latches
The water can easily splash from under the lid
Underneath the cooler, there are no non-slip rubber feet
Igloo BMX 25 Review
Watch the short video overview about Igloo BMX 25 quart cooler
Performances and Features
Insulation
Now let's first explain the isolated possibilities of the Igloo BMX 25 cooler. At first, I will say that the company Igloo claims that according to their controlled tests this model can hold ice for up to four days thanks to 20% thicker insulation foam.
But in actual practice, it is quite different, according to many users and independent testers; the BMX 25 cooler is able to keep food safe at temperatures below 40 degrees Fahrenheit for about 2.6 days.
While this result may not sound good to many, I should point out that for this class of personal coolers and even if you consider its relatively affordable price, the BMX 25 outperforms most personal coolers at much higher prices.
It also contributes little to the insulating capabilities of the cooler bottom design where the bottom is slightly raised from the surface allowing air to flow. This prevents the warming of the lower part of the cooler and prevents temperature rise inside the cooler.
Some testers have a negative opinion of the dominant dark gray color of the exterior of this model which may contribute to a percentage reduction in the cooler's insulating capabilities if exposed to direct sunlight longer period.
Another thing that specifically negatively reduces the isolation of this model is its cover. At first glance, you get the feeling that the lid perfectly and firmly closes the cooler. In fact, the inside of the cooler cover has no rubber gaskets like most coolers, so this allows the hot air to get inside the cooler and let the cold air out.
But despite this disadvantage, the insulating capabilities of this Igloo BMX 25 are really great in comparison to its size.
Durability
Durability is a characteristic that is part of every quality cooler and should always be taken into consideration. When it comes to the durability of the Igloo BMX 25, it is one of the biggest advantages of this model, and it applies to the entire Igloo BMX series. In fact, the BMX abbreviation itself means Blow-Molded eXtreme, which says that this cooler uses molded plastic that has high rigidity and high performance.
Also noticeable from the front of the cooler are the huge, high-strength rubber hinges along with the metal diamond plate so-called "kick plates" located on the front underside of this product. This product is also characterized by a well designed thick, firm and durable handle.
In addition to the lack of a rubber seal in this cooler, another notable feature that many users criticize is the front rubber T-latches. The problem is that they are soft and can be damaged if you pull them too hard. And not only that, if they are for a long period of time under direct sunlight, they could be softened and very easily damaged.
By damaging them, the lid of the cooler will not be able to be closed properly so this could adversely affect the temperature inside the cooler itself. If the rubber hinges are not strong enough for this cooler, then it should be a great comfort to note that its metal hinges are one of the stronger features, they are very solid and durable.
But according to some users, there was some damage to the cooler cover. This came about as a result of pushing an already open cover more than it should be. So this problem together with the rubber soft hinges may allow the lid not to close properly and allow the water easily to spill out from under the lid.
This means that the cooler needs to be securely fastened on the back seat of your car when traveling. On the other hand, the thickness of the insulation of the housing, as well as its sturdy and durable walls, is commendable.
Ease of Use
When it comes to the usability of this product, it is one of its strengths. First of all, the carry handle stays in whatever position you leave it on, its rubber hinges can be easily and simply detached and even with one hand.
The interior of this cooler can be said to be quite spacious which is quite satisfactory for a personal-sized cooler. There is enough room inside to store about 34 cans including a certain amount of ice. All of its corners also have tie-down holes that allow you to securely fasten the cooler so it doesn't move around when traveling with your vehicle.
Some users of this cooler say that a slight disadvantage is when the rubber latches are not properly closed, they can easily come into contact with the cooler handle when it is lowered sideways. This would somehow lead to friction between them and possibly some damage.
Another minor objection relates to the design of the lid, which does not allow you to sit comfortably on it, as in other coolers. Also, the surface of the lid is slippery, so that if you place an item on it, it will not stay in place.
This cooler also lacks rubber feet underneath, to prevent the cooler from sliding around when transporting it in the trailer of your car or if it is on an uneven surface. One thing that is missed out of this product, that is, the tie-down holes cannot be locked with a padlock as additional protection from animals. But, despite these shortcomings, this Igloo BMX 25 cooler is an easy-to-use product.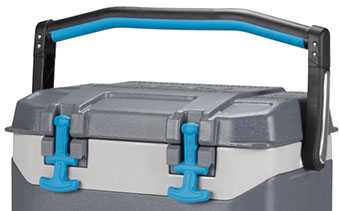 Portability
First, dimensions of this portable cooler are 19.59 inches long, 15.7 inches high and 13.25 inches wide and its basic weight when empty is 11.28 pounds (about 5.12 kg). Its capacity is 25 quarts which are about 23 liters. This is enough room for about 37 cans of 12 oz. or you can fit about 34 cans including some ice inside this BMX 25. Its handle is designed so that when the cooler is fully loaded, you can easily transport it with no problem.
The only complaint about its portability by users of this model is when you carry the cooler on its handle and its rubber latches are not closed properly it can hit your feet which can be a bit uncomfortable. But this problem is easily solved by keeping the latches on the opposite side so that they do not touch your feet when holding the cooler to the handle when transporting it.
Besides this minor disadvantage, it is obvious this is a pretty portable cooler and it can be easily carried by anybody, anywhere.
Features
So, let's take a closer look at all the features of this cooler. First of all, the handle on this cooler is large with a nice and ergonomic design and is the product of a combination of multiple pieces of solid plastic that will help you easily carry the cooler with you.
Then, let's mention rust-resistant hinges made of stainless steel that holds the lid always effectively closed. Next, a very important role is played by rubber T-grip latches that securely lock the lid and are easy to operate. For greater security of the cooler, special tie-down loops are designed that are located on the corners of this product.
The most notable feature you'll notice in this cooler is the ruler that is on top of the lid. With the ruler, you can measure all your catches. But this product also lacks many useful features such as rubber feet, drain plug and I think many picnic lovers will especially welcome a bottle opener.
Conclusion
Igloo BMX 25 is a great personal cooler with a modern and attractive design that offers great performance at a very affordable price; it is a very durable product with impressive insulation, easy to use and offers great portability.
Despite the lack of some important features, such as a rubberized gasket, rubber feet, and bottle opener, this is a personal cooler for everyday use that offers great value for its money. In addition to this Igloo BMX 25 Review, you can also view our other cooler reviews as well as our selection of top coolers on the market today.