Yeti Roadie 20 Cooler Review: if you are looking for a small personal-sized hard cooler that offers decent insulation and excellent durability packed with many features then the Yeti Roadie 20 may be the cooler you needed.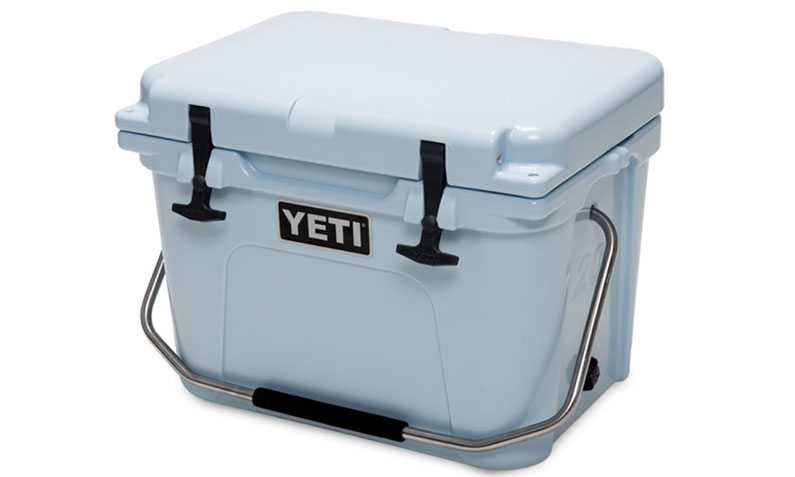 Yeti Roadie 20 is a small, personal-sized ice chest cooler with good enough insulation and extreme durability.
It comes with many useful features like two types of carrying handles for better portability, drain plug that is easy to use, non-slip feet, sturdy latches to keep the lid perfectly closed, it can be used as a place for seating, it is relatively easy to use and all that with an extremely high price.
So, if you need a cooler with insane durability, easy to use for personal use for short outings and you are able to pay its relatively high price the Roadie 20 may be right for you.
What We Like
Great insulation
Extremely durable
It is simple and easy to use
Two carrying handles
Non-slip feet
Colors: Ice Blue, Ref Blue, Desert Tan, White, Pink, Green, River Green, Charcoal
What We Don't Like
Too expensive for a personal-sized cooler
As a personal cooler, it is heavy when is loaded
The metal handle makes the cooler uncomfortable for carrying
Please Note: The Roadie 20 is no longer sold; all links from this model in this post go to the newer upgraded model Yeti Roadie 24. Also, you need to be aware that this review is referring to the Yeti Roadie 20.
Yeti Roadie 20 Cooler Review
Here is the video review about YETI Roadie 20 Cooler
Insulation
The production of Roadie cooler uses many advanced technology solutions such as Fatwall ™ design, Interlock lid system, and Coldlock ™ gasket. It is obvious that it is a very solid small size cooler, characterized by a rubberized gasket and excellent 2-inch body insulation.
All this allows the cooler to keep the food safe for about 2.3 days, which is not impressive compared to most coolers that can keep food safe for 4 days or more. Even the newer upgraded model Yeti Roadie 24 has slightly better ice retention which is about 2.8 days. But, you have to take into account the fact that this cooler is designed to meet the needs of people who need a cooler for day or weekend trips, then its insulating performances are justified.
If you compare the insulating capabilities of most personal-sized coolers that are in the same class as the Roadie 20 cooler you will find that there are no major differences. Some models manage to keep food at a safe temperature below 40 Fahrenheit for only 2 days while for some models the result is 2.6 days.
Slightly better insulation properties have its competitor Igloo BMX 25 which is able to keep food safe below 40 Fahrenheit for approximately 2.6 days and almost 4 days below 50 Fahrenheit.
While the Yeti Roadie 20 is much better than the Pelican Elite 20 Quart Cooler which has catastrophic insulating capabilities, this cooler can keep food safe for approximately 1.4 days.
In fact, the isolation performance of the Roadie 20 cooler is somewhere in the middle compared to its competitors, which is quite satisfactory. Simply if you are a few people and are planning a day out or beach day, then you should not hesitate about this cooler.
Ice Retention
As we already know, this cooler can keep food safe for about 2.3 days. Now when it comes to ice retention, its 2-inch thick insulation and the perfect sealing of the lid allow the cooler to hold the ice for up to 4 days if properly loaded.
Simply, the ice retention and insulating capabilities of this cooler are enough to keep food safe and your drinks cold for your short outings. That's not all that bad; in fact, this Roadie 20 is still good enough for personal use, more specifically for people who often go out on day or weekend outings.
Even in case if you don't have a cooler that offers excellent insulation, you can use some of my best tips to reduce the ice melting in your cooler. Also if you are planning to use dry ice, you can read the article that I have posted recently, where you can learn the best way how to use dry ice when you want to increase the insulation of your hard chest cooler.
But if you are not happy with the isolation capabilities of this cooler you can also check out our list of the best coolers here.
Durability
It is obvious that this refrigerator, like all models made by the brand Yeti, is subject to very rigorous endurance testing. This cooler is extremely durable which stands side by side with one of the top models of the same company Yeti Tundra 65. It is known that it has a rotomolded construction that is characteristic of whitewater kayaks.
The whole body of this cooler is made of polyethylene and is filled with polyurethane foam which is responsible for its excellent insulating capabilities and gives this product immense hardness.
The inside of the cooler lid has a rubber gasket that is similar to freezers. When the lid is closed, this gasket does not allow any water to leak out of the cooler and also does not allow hot air to enter the cooler.
One of the weaknesses of this class of coolers is their rubber latches and hinges, which is not the case with this model. The hardness of the hinges is impressive and they are designed to withstand whatever it is. While the rubber latches that lock the lid are extremely sturdy and durable.
Portability
I don't need to explain that smaller personal-sized coolers like the Yeti Roadie 20 are more portable than the huge coolers with capacities of 80, 100, and more quarts. What is obvious from the name itself is a cooler with a capacity of 20 quarts.
Including its dimensions of 19 inches wide, 13 3/4 inches deep, and 14 3/8 inches high, its weight of 15.98 pounds (about 7.24 kg) along with both recessed side handles and metal handle, you shouldn't at all have a problem transporting it over not too long distances.
But, I should note that some users will not like the metal carry handle because it is thin and has non-ergonomic rubber padding for holding, and also the side handles do not have round corners like some coolers. This will somehow make carrying the cooler over long distances uncomfortable.
But, if you intend to carry a cooler over longer distances then my recommendation is to choose some of the quality soft coolers, as they are made to be more portable than hard coolers. However, as a hard cooler, the Yeti Roadie 20 is a relatively portable cooler.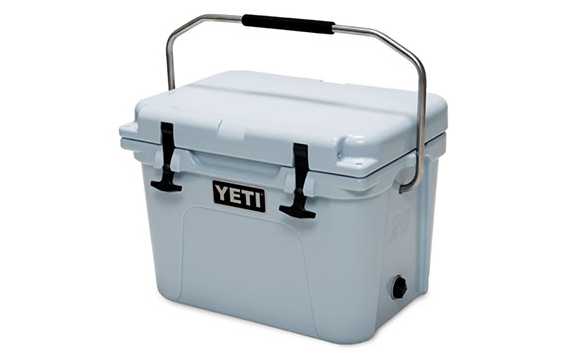 Features
The Yeti Roadie 20 is packed with many useful features that make it easy to use. First, I'll mention a simple-to-use drainage plug. Thanks to it you can easily and quickly clean the cooler after each use.
There are recessed carrying handles just below the cover on both sides of the cooler. In addition to the carry handles for the better carrying of the cooler, it also comes with a metal handle that has a sliding rubber pad for easier carrying. On either side of the cooler, there are two small plastic recesses or bearings that help the handle to be locked into an upright position.
Then, as I mentioned earlier, two heavy-duty rubber latches that easily airtight lock the cooler. Its rotomolded construction allows it to handle dry ice. I should also mention the so-called non-slip feet that help the cooler stay in place wherever you place it. Also, the cooler can be used as a solid seat plus on top of that, it comes with a 5-year warranty.
Value
Compared to many coolers of the same class, the Yeti Roadie 20 is a very expensive product. Its price even exceeds the prices of many coolers that have three to four times more capacity. Plus its insulation is not top-notch.
If these are the main reasons for not investing in Yeti Roadie 20 and if you really need a personal-sized cooler that features better insulation at a more affordable price then you don't need to worry at all.
Today on the market you can find personal-sized coolers with much better performance and lower prices.
But, if the price is not such a big problem, you have no special personal needs and if you want a cooler that will last a lot longer, then this Roadie 20 should not be a bad choice. However, in the end, you know what is best for you.
Conclusion
The Yeti Roadie 20 cooler may not be among the best coolers when it comes to superior capabilities, yet it stands out with its superb craftsmanship, tremendous rigidity, and easy use. It is small enough to be used for one-day or weekend adventures and it can be easily carried by one person. As a personal-sized cooler, this Yeti should meet your daily needs.
I hope this Yeti Roadie 20 cooler review will help you to learn enough to understand whether this is the right cooler for your personal needs or not. Also, you can check our other cooler reviews here.