Welcome to my in-depth Yeti Tundra 65 cooler review for one of the most popular rotomolded coolers on the market today.
Yeti Tundra 65 cooler stands out with its amazing overall performances, offering to customers amazing insulation capabilities along with great durability.
 It is easy to use and at the same time, comparing to its dimensions and weight offers great portability and it is packed with a lot of useful features to satisfy the needs of the wide range of customers.
 Maybe it lacks some features like the leash for the drain plug, bottle opener, and cups holder but still, it justifies its high price. It is best for camping, weekend getaways, hunting, fishing, and all other everyday activities.
What We Like
Extremely durable
Bear resistant
Great insulation performances
Non-slip rubber feet
Durable integrated hinges
Tie-down slots for securing the cooler
The Tundra 65 features a simple and handy dry storage basket
What We Don't Like
High price
The rope handles are not comfortable
When draining the cooler the things close to the drain plug may get wet
The T-rex latches cannot be replaced if they get damaged, you will need to replace the whole cooler if you are under the warranty
It lacks a leash for the drain plug
Yeti Tundra 65 Cooler Review
Here is the video review about Yeti Tundra 65 cooler.
Features and Performances
Insulation
In a word, Yeti Tundra 65 is the king of coolers when it comes to isolation. Its insulating results are impressive; it allows you to store food at a safe temperature that is usually below 40 degrees Fahrenheit for 6.5 days. This is really impressive and is side by side with the ORCA 58 Quart cooler which can also keep food safe for 6.5 days.
If you store your drinks in this Yeti Tundra 65 cooler, they will be cold and fresh for an amazing 7.4 days which is a little more than the result of the ORCA 58 Quart cooler that can keep your drinks at an optimal temperature that is below 50 degrees Fahrenheit for 7.3 days, this is really amazing.
Like most quality rotomolded coolers, this one is also characterized by quality and durable hinges as well as the rubber gasket that has the same quality as gasket integrated into the premium class freezers. All of this, packaged with a quality design by this cooler, contributes to stand out from the competition in the insulation segment.
Although its dimensions are quite large, it allows you to store everything you need for a whole week of camping, and while its shape is such that it allows being carried just by one person when it is not fully loaded.
However, the main reason for obtaining these excellent insulating capabilities is the use of polyurethane foam. Under pressure, polyurethane foam is injected into the walls of this Yeti Tundra 65. The side-walls and bottom have 2-inch thick insulation and while the lid has 3-inch insulation because that part of the cooler is most exposed to sunlight.
Durability
This is a very durable cooler just like its smaller brother YETI Roadie 20 (here you can read the full interview for YETI Roadie 20). First of all, like most quality rotomolded coolers Yeti Tundra 65 is also certified by the Interagency Grizzly Bear Committee as proof to you, that its construction is very durable so it can withstand even a bear attack.
Another thing to mention when talking about its durability is its cover. It is very solid, its surface is textured and you are free to use it even for sitting without worrying about damaging it. The two hinges are also very durable; you should not be bothered at all by the thought that they will be damaged during frequent intensive opening and closing of the cover.
The inside of the cover has a wide, thick, and flexible rubber gasket. It allows the lid to be airtightly closed and does not allow hot air to enter the interior or to leak fluid from the inside in case you overturn the cooler. The quality of this rubber gasket is one of the reasons for its high insulation of this product. But, the rubber gasket is also present around the drain, which effectively prevents leakage.
Like all coolers, this one is not perfect at all. The drain plug does not have a leash that I am really surprised for a cooler of this class, so there is a probability to be lost, so you need to be careful where you place it when you drain the cooler. But that's not a problem at all if you accidentally lose the drain plug; you can simply order a replacement.
You should also know that if you leave the cooler for a long time to be directly exposed to the sun, there will be a slight curvature of the hottest parts, which is normal not only for coolers but for all objects exposed to sunlight. But by reducing the intensity of the solar heat, or if you put the cooler in the shade, the heated parts will return to normal. This should not worry you at all because it is a very durable product with high insulation.
Ease of Use
Let's say a few words about the usefulness of this cooler. At first, you can easily open the cooler even with one hand. A very important thing for all coolers is that when you open them, does the lid has the ability to stay in the open position or simply it closes itself.
If the lid does not have the ability to stay open, then you will have trouble when storing products inside the cooler or taking the items out from it. In this case, the lid of the Yeti Tundra 65 always remains in the open position without stretching the opening angle of the hinges.
This is very useful because firstly it will prevent damage to the hinges and secondly it will make it easier for you to load and empty the cooler. When it comes to loading the cooler, unlike some other coolers, here it is much easier thanks to its simple shape. It is also important to know that closing the lid is very easy, you can do it simply by pushing it and it does not create much noise.
This Tundra 65 comes with two sets of handles, one of which is located under the lid, built into the cooler. While the other set is actually a pair of ropes that have moving rubber handles in the middle for better grip when carrying the cooler. These two sets of handles help the cooler to be easily carried by two or just one person.
Portability
It is common for such a large-sized cooler that portability is not its strong feature. This is also one of the main drawbacks of the Yeti Tundra 65. First, when it is not fully loaded, it weighs about 29 pounds (about 13.1 kg) and also has no wheels, so it is recommended always to be carried by two people.
In fact, the portability of this cooler is side by side with the much cheaper Engel 65 cooler (here you can read the full review about Engel 65), whose overall performances are really great.
To make it easier to carry this product as I mentioned earlier in this interview, it has two sets of handles. One set of handles is recessed into the cooler itself, just below the cover. While the other set of handles are in the form of a rope that has special moving handles to have a better grip and greater comfort on your hands.
But when it comes to the comfort of rope-shaped handles for sure, I can say that the handles of the RTIC 65 cooler are far better not only than those of the Tundra 65 cooler but also better than the handles found in most coolers from this class.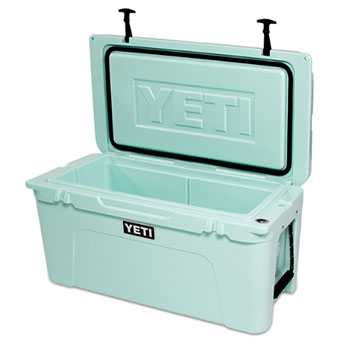 Dimensions, Weight, and Capacity
The external dimensions of this Tundra 65 are 30.5 inches width, 17.5 inches in depth, and 16 inches in height. This cooler weighs about 29 pounds (about 13.1 kg), which is not much compared to other similar premium coolers.
But when we talk about the capacity of this cooler is not 65 kWh, as claimed by the company, which is a common case when it comes to the capacity of coolers. Specifically, the capacity of this cooler is less and is 51 cards. However, you still have enough space to store about 42 cans of beer and soda or about 52 pounds (23.5 kg) of ice.
Features
At first glance, the Yeti Tundra 65 is not much different from other rotomolded coolers in its appearance. But when you look at it better, you will notice all its useful features.
Rubbery non-slip feet: First of all, I will list the standard features of this Tundra 65. In order to be more stable and not slip around this cooler, as well as its competitors, it has non-slip or grippy rubber feet.
Tie-down slots: Speaking of reliability and stability, this cooler at each of its front ends has tie-down slots that are wide enough to use a thick strap or rope to tie down the cooler when it is in the trailer of your pickup or tie the cooler in your boat so it doesn't bounce when there are waves while fishing. But the good thing is that even after securing the cooler, you will still be able to open the cooler cover and get what you need.
Integrated Hinges: I especially like the integrated hinges that are built into the body of the cooler unlike some models of coolers where their hinges are simply attached to the cover.
In fact, here we have two pins that slide into the system that is connected to the body of the cooler. So these hinges cannot be replaced and they do not stick out of the cooler so you can easily place the cooler in much narrower spaces.
Interlocking lid: This interlocking lid overlaps, so it doesn't allow the cold air to escape and also the hot air to don't go inside. But that's not all, the lid has a freezer-quality rubber gasket that further prevents the movement of air in and out and also does not allow water from inside to come out.
But you should know that after a long period of using this cooler it can happen to occasionally leak water through the lid, which means that the seal is worn out and you will need to replace it with a new one.
But you don't have to worry too much about this at the beginning of using the cooler because you have a 5-year warranty and as I said if you have a problem with the gasket you just need to replace it.
Drain plug: As for the drain plug, it is really very durable and easy to operate. To start emptying the cooler you just need to make a few twists. But, what I don't like about the drain plug is that it is at the same height as the rope handles. So the main problem here is when you need to empty the cooler, you will have to hold the handle aside so that it doesn't get wet from the jet of water coming out of the cooler during emptying.
Also, if the drain plug is not completely removed during emptying, then the water coming out of the cooler tends to spray around so that whatever is nearby will be wet. Speaking of the drain plug, I will say again it would be very useful if the drain plug has a leash.
T-Rex Latches: As with many coolers, you will see that this Yeti Tundra features T-shaped latches. And what's amazing is that these latches are made of stretchable but very sturdy rubber that simply holds the cover to the cooler's body hermetically sealed. They are very durable and you don't have to worry about damaging them if you pull them too hard.
But keep in mind that if you accidentally damage these latches, which I think the chances are very small, they cannot be replaced, you will need to replace the cooler with a new one if you are still under the 5-year warranty. This is one of the disadvantages of this Yeti Tundra 65.
Two pairs of handles: To simplify and facilitate the carrying of the cooler, it has two sets of handles. One pair of handles is built into the body of the cooler. These handles will work best if the cooler is to be carried by only one person.
And while the other set of handles are actually hanging ropes made of very durable polyester. These handles have the kind of sleeves or tubes that are made of rubber for the better handgrip. These handles are specially designed if the cooler is to be carried by two people.
As I already mentioned in this interview, these handles are not very comfortable to use and are very similar to those of the ORCA 58 Quart cooler but they serve their purpose. However, the handles of the RTIC 65 cooler provide the best grip and comfort.
Dry storage basket: this is a really useful feature. You can simply use this basket to store your dry items.
Rotomolded Construction: For the special strength of this cooler, its rotomolded construction has the biggest impact. This is a specific way of making that is used in most coolers. This way of making does not allow there to be gaps inside the plastic which drastically increases its strength.
Its hardness is so great that it is practically unbreakable. You can simply jump on top of the cooler, you can use it as an extra seat or you can put very heavy objects on top of it without making any damage to the cooler.
My Conclusion
If you need a high-quality rotomolded cooler that offers great durability, above all great insulation performance, and easy to use with a large capacity, the Yeti Tundra 65 is the right choice. But, if you are not able to set aside a larger amount of money needed for such a cooler, today on the market you can also find coolers with more affordable prices and excellent performance.
For those that are not able to set aside a larger amount of money needed for such a cooler, today on the market you can also find coolers with more affordable prices and excellent performance.
Thank you for reading my Yeti Tundra 65 cooler review and I hope it helped you to make the right decision whether this cooler is the right choice for you or not.