If you are looking for a rotomolded cooler with excellent insulation that offers a lot of space the Orca 58 qt cooler might be the right choice for you. Now, let see what are the capabilities of this cooler.
Overall the Orca 58 qt cooler offers fantastic insulation, a lot of space for your articles, and great durability which somehow justifies its price of over $300.
But, for the cooler in the range of this price, it would be nice to see at least a bottle opener as an extra feature like the one in the Engel 65 which is far affordable and with above-average performances.
Also, you will like the rubber latches with the shape like whale tails that will keep the lid hermetically shut and the netted mesh pocket as additional storage space.
What We Like
Excellent insulation capabilities
Easy to use
Extremely durable
The fast and easy draining process
Its compact design
The cooler is made in the USA
What We Don't Like
The tall narrow design
The cooler doesn't come with a basket for dry goods
A little bit is overpriced
It doesn't have drain plug leash
The lid doesn't stay in an opened position, it often happens the lid closes unexpectedly on its own
Orca 58 QT Cooler Review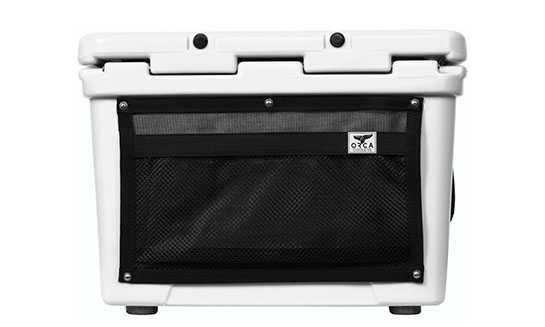 Features and Performances
Insulation
Now, when it comes to insulation, the ORCA 58 Quarter is one of the best performers along with the Yeti Tundra 65 and RTIC 65. If you are looking for a cooler with excellent insulating performance, you will not go wrong if you choose any of these high-performance ice-chest coolers.
The insulation performance of the ORCA 58 Quart is as follows, it can hold your items, especially the food at a safe temperature below 40 degrees Fahrenheit for 6.5 days.
This will delight all those who often go camping and picnics for more than 5 days. But, when it comes to your drinks, this cooler can keep them cool and fresh for an impressive 7.3 days, perfect for long picnics and outdoor camping.
For these fantastic insulation results, the rubber gasket plays a big role, and I should also mention the strong hinges that hold the lid tightly and prevent the bears from opening the cooler. In a word, ORCA 58 Quart is a rotomolded cooler with top insulation characteristics and is a great choice.
Durability
Endurance is another feature that sets the Orca 58 apart from most competitors. This cooler rightly justifies the endurance certificate from the Interagency Grizzly Bear Committee. This model is characterized by very solid construction, which has withstood all rigorous tests such as bear attacks, under the wheel of an off-road vehicle, rock-throwing, and more.
Its hinges are made of thick nylon, which at first glance casts doubt on their quality, but from the experience of many users and testers, they have proven to be really very durable even when you open and close its lid very often. In addition to the hinges, nylon is also the dominant material in the handles of this cooler, which has proven to be much more durable than those made of plastic.
As for its hinges, they are rubber and extra heavy-duty that effectively secures the cooler. Characteristic of these locks is their design, which is inspired by the aquatic mammal Orca, after which the brand itself is called.
Ease of Use
Now, what about its usability? First of all, its thick rubber latches will give you a bit of a problem when using them. In fact, you'll need to use a little more force when you want to open or close the lid. This means that you will have difficulty if you intend to operate these latches with a single hand.
But, I don't think this should be a handicap when using this cooler. This is just another fact about the quality of these latches; they will not be damaged at all and will last a very long time, which is the main goal of the Orca Company.
But some of you may not like its design. In fact, its high body is designed to narrow from top to bottom. So some people may find it difficult to search for items stored at the bottom of the cooler or if some of the small items stored at the top accidentally went to the bottom of the cooler. Not only can this sometimes be irritating, but it will also take more time for you to get the product you want.
Another thing that has a lot of complaints about this cooler is that when you open its lid it does not stand upright all the time. At certain times, the lid closes unexpectedly, which can sometimes be very dangerous if children are playing around the cooler.
This negative feature of the cover can also give you a problem when you need to take out the items you need at the moment. Plus the free fall of the cover during its unexpected closure creates an irritating noise. This is especially annoying at night when people are sleeping nearby who can easily wake up to the slightest noise.
But when we talk about the usability of this Orca 58 cooler, we should boast of its drainage channel, which can very easily, quickly, and efficiently drain the liquid contents from the inside of the cooler. This drain makes the Orca 58 as one of the coolers easiest for emptying.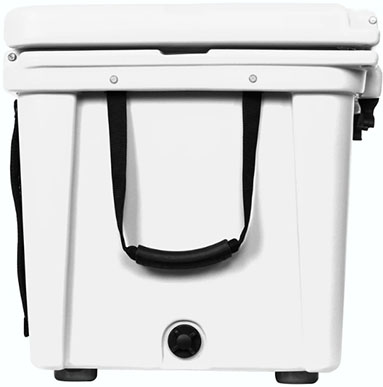 Portability
When it comes to Orca 58 portability, things are like this. Its outside dimensions are quite large and are 28 inches wide, 21 inches high, and 20 inches depth. Also, the walls of this cooler are quite thick, but this is done for a reason for better insulation. However, its weight in relation to its dimensions is not too heavy. When completely empty, it weighs only 34 pounds, which is about 15.4 kg.
Its narrow profile allows it to be worn by one person, but certainly not when fully loaded. Also, this narrow profile with its dimensions does not take up much space like the other coolers in this class, so it allows you to easily place it in your trailer or in your boat.
This cooler also features a second set of handles that makes it easy for two people to carry. These handles have nylon sleeves with a semi-rigid rubber for better handling. They are flexible and have a good grip. However, these handles are not as good as the handles of RTIC 65 cooler, which have soft and foamy sleeves that are very comfortable to handle and reduce hand sweating on hot days.
Features
The Orca 58 is a cooler that comes with pretty basic features for your outdoor needs.
It has tie-down points on either end so you can secure the cooler on your boat while fishing or on your trailer while traveling on a picnic and still you will be able to open the cooler to take whatever you need.
The rubber feet are also present so that the cooler will stand still wherever you place it. Then the drainage channel is very efficient when you need to drain the liquid from the cooler.
There are also both extendable flex-grip roped and rigid handles on both sides to make easy carrying the cooler.
The rubber gasket that improves the insulation of the cooler and one of the features that a really like is the external large mesh pocket that allow you to keep some useful things like plates, spices, bottle openers, paper towels, and more.
But, I would really like to see in this cooler features like a bottle opener, cups holder on top of the lid and also would be a really nice drain plug to have a leash so you don't have to worry about losing the drain plug when draining the cooler.
Our Conclusion
The Orca 58 qt is a durable rotomolded cooler with great insulation that offers enough space for food and drinks for long recreational picnics with your family and friends. If you think that this cooler does not justify its high price then you can check our other recommendations that will better meet your daily needs.