The Engel 65 cooler is a really solid product that offers really good insulation and excellent durability at a much more affordable price than other competitors. Its locks somehow differ from the locks on most coolers that use a tug-and-pull way of use.
This model comes with a built-in bottle opener that is not available in many coolers. So this makes it the perfect companion for picnic outings and hangouts on the beach.
Its size is smaller than it is advertised so it gains more portability and can be ported by one person without a major problem when is not fully loaded. Simply put, you will be truly amazed at its overall performance compared to some of its more expensive competitors.
What We Like
Great insulation
Solid and durable construction
Bottle openers
Rope handles
10 years a warranty
What We Don't Like
The drainage opening should be bigger
The price should be lower
Not many special features
Engel 65 Cooler Review
Insulation
This Engel 65 cooler is characterized by above-average insulation thanks to the airtight rubber gasket. But not only the airtight rubber gasket but also its excellent two-inch high-performance insulation with high-quality, durable interlock hinges contribute to its complete above-average insulation.
This model is capable of keeping food at a safe temperature below 40 Fahrenheit for a maximum of 5.6 days which is really impressive when compared to the average isolation time of 4.5 days.
However, the isolation of this cooler is not as impressive as it is advertised by Engel which has to keep your articles safe and cold for 10 days. But to be honest, most coolers do not meet factory insulation specifications, so we shouldn't complain about its true insulation capabilities, the Engel 65 is not at all to blame.
So with this cooler, you will have no problem keeping your items cold for much longer than a weekend. Which is really great if you want to go camping for 4-5 days, your items will be perfectly cold, especially your beer.
Durability
This model of the cooler has undergone many durable tests such as rolling over all sides when it is filled with water where the end result is no leakage due to the silicone gasket.
Its interlocking latches proved to be quite durable and resistant to all rigorous tests, which proved to be truly reliable. This proves once again the quality of this cooler.
One thing to know for sure about this cooler that it is really very durable, that it has passed several real bear tests. Because of this, he owns the "Grizzly Resistant" stamp approved by the Interagency Grizzly Bear Committee (IGBC).
Usability
First of all, this model of Engel does not use rubber Trex-grip and pull latches used by most of its competitors. Instead of Trex-grip and pull latches, this model uses interlocking hinges.
In the experience of many users, this type of latch design has not proved very useful. Actually, some users complain about their slim, long shape and the small space around the latches, which somehow makes the opening and closing of the cooler a little bit difficult. Plus the latches are unstable when used; in fact, they tend to move from side to side, making it difficult to operate.
So, when handling the locks on this cooler you need to be a little more precise. This adversely affects the usefulness of this product. But this does not mean that they are not quality, durable and functional.
If interlocking locks tend to slip from side to side then the downside to Trex-grip and pull latches is that you have to use a bit more force when pulling them down when closing and opening the cooler.
However, whether interlaced or Trex-grip and pull latches are better, in the end, all depends on personal preference. Both types of locks have their advantages and disadvantages. And most importantly, the interlocking hinges of this cooler successfully and efficiently seal the lid.
The cooler has a simple and easy-to-use drainage opening for removing water and cleaning its interior. It is my personal opinion that the drainage opening should be slightly larger than it is.
The cover of this cooler is highly textured which allows you when you place items on top of the lid they get a better grip and they will not slip when the cooler gets bumped during transportation. Also, there are holes on both corners on the front for using padlocks.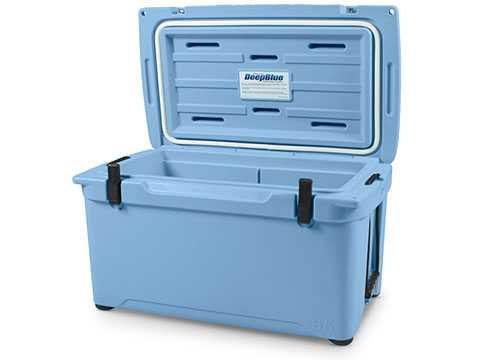 Portability
With its dimensions of 29.9 inches in width, 16.8 in length and 16.5 in height plus its starting weight of 26 pounds (about 11.8 kg), it makes this model one of the lightest rotomolded of its class. This is the limit of a personal-sized cooler, which allows it to be worn by only one person if not fully loaded. On both sides of this model are solid carrying handles and next to them are two rope handles for better carrying by two people.
Features of the Engel 65
The cooler does not have many special features, but I should especially mention that you will really like about this model and that are the metal hooks that are used to secure the interlocking hinges and they can also be used as bottle openers.
This model has large feet (pads) at the bottom so the cooler can stay in place without moving itself. For example, if you place the cooler inside the truck bed or tailgate of your vehicle, the stable feet will not allow the cooler to slide around during the transport. I also like that the lid has a specific texture so that any objects you place on it will not slip, they will stay firmly in place.
There are two holes on the front corners, so you can lock the cooler securely with a padlock. As I said before, when you need to drain water from the cooler, this model has a simple drainage channel that is easy to use.
The capacity of the cooler is 56 quarts and is less by 2 quarts than the Engel brand claims to be 58 quarts, which is a common occurrence in many coolers.
And what I really like is that this cooler is backed up with 10 years a warranty by the manufacturer. Again proof that this is a quality product.
Conclusion
I think the Engel 65 may not be among the best-performing coolers with many special features, but if you compare its above-average performance and below-average price, it is more than ideal for your daily outings and sporting activities such as fishing, hunting, and hiking.
You'll be more than pleased with its durability, simplicity of use, its solid design, decent insulation and super-useful features such as a bottle opener and a surface-specific textured lid that allows for better grip on any objects or articles you put on top of the cooler. In short, the Engel 65 cooler is more than an average product. 
Besides this Engel 65 cooler review, as well you can check our other cooler reviews here.