Welcome to my Xspec 60qt Cooler review: if you are looking for a cooler with above-average performance, practical and easy to use, durable, but not too expensive, then I think this might be the right product for you.
Xspec 60qt is a rotomolded cooler that comes with many useful and necessary features, with an above-average design and most surprisingly its price is far below high-end rotomolded coolers. Actually, if you compare the prices of coolers that offer the same performance and features as this Xspec 60qt, then you will realize that this is an ideal rotomolded cooler with high-end features and with a much more affordable price.
However, this product lacks basic things like a basket for dry products and an IGBC certificate that lets you know it's resistant to bear attacks.
But this should not mean that this cooler is not very durable, on the contrary, it is characterized by great durability, excellent portability, and satisfactory insulation that will perfectly meet the needs for weekend camping and a few daily outings. 
In a word, the Xspec 60qt cooler offers quality performance, average design, and a very reasonable price.
What We Like
Satisfactory insulation
A lot of handy features
Very affordable price
Not too heavy
A perfect ratio of its dimensions and practical shape
Easily removable handles
Large capacity
Pressure release valve that helps you easily to open the lid of the cooler when there is a different air pressure between the outside and inside
UV protection on the surface
What We Don't like
It doesn't come with a basket for dry goods
It is not certified by the IGBC organization
Xspec 60QT Quart Rotomolded Cooler Review
Features and Specifications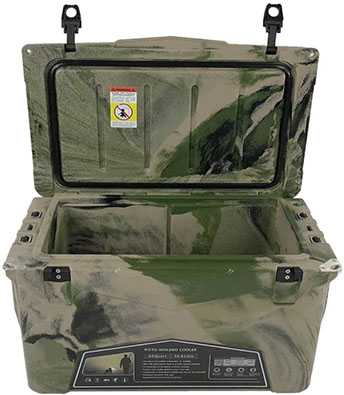 Insulation
First of all, let's talk about the isolation of this Xspec cooler. Isolation is not the strongest feature of this product. But it still offers overall good performance for your few day trips to the beach, camping in nature or hunting.
First of all, in terms of food storage time at a safe temperature below 40 degrees Fahrenheit for this cooler is a maximum of 4.7 days. While the period of keeping your drinks fresh and cold below 50 degrees Fahrenheit is 5.3 days.
This may not sound very impressive compared to the insulation results of some larger-capacity cooler models, but the insulation features offered by the Xspec 60qt are more than enough for a few daily picnics and camping. In addition, this cooler is compatible with dry ice, which means that it will successfully maintain the quality of your food for a long time.
To successfully maintain food and drink at a safe temperature, the sidewalls of this cooler are filled with 3 inches of polyethylene foam. Plus, there's a quality rubber gasket under the lid of this cooler in the form of a flattened tube similar to that of freezers and it perfectly seals the cooler.
And that's not all, in addition to the non-slippery rubber feet on the bottom of the cooler, there are also several raised sections under the cooler that allow better air circulation and also keep the cooler away from hot surfaces in the summer.
Durability
As I said before, this cooler does not have the IGBC Certificate of durability, but it is surprising that it is side by side with many rotomolded coolers that are IGBC certified when it comes to its durability. It is worth mentioning first, its integrated hinges that can withstand improper treatment of the cover such as excessive stretching.
Then the quality rubber gasket that perfectly seals the cooler and does not allow hot air to enter from the outside to the inside as well as the cold air to escape from the cooler which would adversely affect the isolated capabilities of this product. In addition, the rubber gasket also prevents liquid from leaking out of the cooler.
When it comes to the quality of durability of this cooler, it is worth mentioning its drain plug whose design is the same as the design of the drain plug used in some coolers such as Yeti Tundra 65. The characteristic of this type of drain plug is that it has a rubber seal that contributes to better sealing of the cooler. The rubber gasket is also located on the pressure release valve which performs its role qualitatively.
Also, I need to mention that a number of users have complained about the drain plug. It is alleged that water leaks from the drain plug at times.
Next, the common problem with coolers who also question their durability is their latches. But here, in this case, they are doing their job faithfully. The latches on this cooler are made of rubber and plastic. The part that holds the tension on the cover is made of rubber, while the part that should hold the cooler and keep the cover locked is made of plastic.
The use of several different materials when designing latches often calls into question their longevity. But in this case, the latches on this cooler have proven to be really durable and easy to use, which is really commendable. Actually the durability of Xspec 60qt is side by side with the coolers Engel 65 and RTIC 65, simply this is unexpected and surprising for this cooler.
Ease of Use
One of the major advantages of the Xspec 60qt cooler is its ease of use. In fact, its usability is greater than the Yeti Tundra 65 cooler, which is considered as one of the best-rotomolded coolers. As I said before, the design of the latches allows you to use them much more easily than the T-design in most coolers where you often have to use both hands and a little more force when handling them.
The drain plug is efficient and easy to operate. In fact, he has a double role in this cooler.
First of all, it does a great job of draining the cooler. The inner channel and the small lip help a lot. Also, a pressure relief valve has been added here. This valve plays an important role when there is a sudden change in the outside temperature, which creates a lot of pressure inside the cooler, which makes it difficult for you to open it.
Another feature that I really like is the ratio of its dimensions that makes this cooler suitable for accommodation in the trunk of your car. Its height allows you to easily place items and objects in an upright position without any problems, such as standard wine bottles or large soda bottles.
Speaking of its internal capacity, to your satisfaction, it's a little more than the company advertises. Instead of 60 quarts, this cooler has 61 quarts, which in most coolers always the internal capacity is less than advertised.
Like most coolers, this one features two sets of handles, one set of handles for carrying by one person and the other set of handles to make it easier for two people to carry the cooler.
The first set includes built-in, recessed handles that are designed for one person. They are slightly shallower than the handles of other coolers. This shallow handle design will make it much easier for you when you want to remove the second set of rope handles, which is not the case with built-in handles that have a deeper design. But the downside to this design is that your fingers can easily get stuck in the tie-down slots.
Portability
Obviously the Xspec 60qt, as well as the many rotomolded coolers of similar size and weight, will not offer you great portability, but one thing is for sure, this cooler is designed to make it easier for you when you need to carry it around.
First, when empty, it weighs 31 pounds (about 14 kg), which is the average weight for coolers of similar size, and its external dimensions are 28 inches wide, 17 inches deep and 18 inches high.
Now as we said earlier in this review, to make it easier to carry the cooler, it has two pairs of handles and one pair is built-in and recessed in the cooler to help a person carry it short distances around. These handles are somehow very shallow and do not provide much comfort when using them. On the other hand, a positive feature of the shallowness of these recessed handles is that you can more easily remove the second set of longer handles and reassemble them depending on your needs.
The second pair is actually long rope-shaped handles and they are made of solid plastic. Their design is not very ideal but still offers some degree of comfort in their use.
One thing that really sets Xspec 60 quart cooler apart from its competitors is the perfect ratio of its dimensions. The cooler is not too wide, which allows it to be easily carried by only one person and is not too high, so you can easily place it in the trunk of your car, but it is high enough to store large bottles inside in an upright position.
Features
In addition to the ideal ratio, the Xspec 60 cooler the cooler also stands out from the competition for the number of features it offers.
In addition to standard features such as tie-down slots, non-slip feet, durable hinges, quality quick clip latches that are easy to handle, UV protection on the surface, two pairs of carrying handles and drain plug, Xspec 60qt cooler also comes with additional quality features such as the pressure release valve, easily removable handles, compass, two bottle openers that are really useful, 22 inches molded ruler on the lid for measuring your catches and also worth mentioning a few raised parts under the cooler that improve air circulation.
They also reduce the contact between the surface of the bottom of the cooler and the heated surface where the cooler is placed during the summer period. This cooler also comes in three different colors seafoam, granite print, and camouflage.
As you can see, the Xspec 60 cooler has many useful features that are not only added but also made with quality, which is not a very common case with many rotomolded coolers. In fact, you can find many coolers that come with a lot of features, but some of them are of low-quality workmanship that is practically useless.
Quick Specification
The weight of this cooler when is empty is 31 pounds (about 14 Kg)
External dimensions are 28 inches wide, 17 inches long and 18 inches high
Internal dimensions are 22 inches wide, 12 inches long and 13 inches high
Conclusion
Of course, this is not the best cooler with the best performance, but there are still many things you will love about this cooler.
Simply put, the Xspec 60qt is a rotomolded cooler that comes with many qualities and handy features. It offers a functional and practical design at a very low price with satisfactory insulation and, most importantly, it is very durable.
In short, the Xspec 60qt cooler offers an excellent balance of performance, features, and price, making it an ideal choice for a wider range of users. The quality and performance that this cooler offers are comparable to those of the higher class and far higher price.
Thank you so much for taking the time to read my Xspec 60qt Cooler Review, and I really hope I helped you find out useful information about this amazingly affordable cooler.