Welcome to my Pelican Elite 20 Quart Cooler review: Is it worth paying a high price for a personal cooler that can hold 15 cans or 4 wine bottles and has no more than two days of insulation capability? So, if you really want to know the right answer, continue with reading my in-depth and simple review where you will learn about all main features of this cooler such as insulation, durability, portability, usability, and much more.
Pelican 20 Elite is a personal cooler that with its tall and slim design besides some food, cans of beer, and soda, also allows you to easily place inside tall bottles of wine and champagne. But let me say right away, this cooler lags far behind its competitors when it comes to the most important feature of all coolers, and that is isolation.
In addition, this Pelican 20 Elite is characterized by average durability and portability. It's not one of the top coolers in terms of usability however, compared to most coolers, it has latches that are the easiest to use in general. Despite its strange design and average features, it is a perfect cooler for one-day personal use, whether you are on the beach, on a one-day picnic or you need to bring your food to work every day. 
What We Like
Easy to use "press and pull" latches
Inside you can store tall objects and bottles
It comes with a bottle opener
It comes in more than 9 different colors
4 self-draining cup holders
What We Don't Like
It doesn't feature a drain plug
It is an expensive product regarding what it offers
The unusual shape that affects the portability
The lid does not close hermetically
Pelican Elite 20 Qt Cooler Review
First, let's start with the fact that this is not a rotomolded cooler, its body is designed mostly of plastic, it has a single top handle and the maximum height inside is 14.1 inches.
This cooler has basic features such as tie-down slots, non-slip feet as well as very useful features such as bottle opener and cup holder that is located on the top of the lid. But let's go in order with its main features.
Pelican Elite 20 Quart Cooler Video Review
Product Features
Insulation
We all know that insulation is one of the most important features of coolers in general. That is one of the main reasons why we want to buy a cooler. If the cooler can't keep the food cool and safe, then why should we buy a cooler at all? Then it is better and more convenient to use a soft cooler or backpack.
But let's not owe much. First, the walls of this cooler are filled with 2 inches of polyurethane insulation, and second, I can freely say and I will not be wrong at all that this cooler has one of the worst insulation compared to most coolers.
According to USDA criteria, this Pelican Elite 20 cooler has the ability to store food at a safe temperature below 40 degrees Fahrenheit at just 1.4 days, which is really well below expectations. And when it comes to drinks, the cooler can keep them cool at temperatures below 50 degrees Fahrenheit for just a few hours longer, more precisely for 1.7 days. So, if you plan to go camping for a few days or a long weekend of relaxation using this Pelican Elite 20, just forget it.
Durability
Also, you will not be impressed at all by the durability of this pelican cooler. At first glance, its plastic body along with its components will give you the impression that it is a cooler that offers great strength and reliability, which is really somewhat true.
Specifically, the Pelican 20 Elite is on the verge of average when it comes to its durability, which is far behind its competitor the YETI Roadie 20 cooler, which offers the same capacity and is in the same price range with excellent insulation capabilities.
However, its lid is strong enough that you can use the cooler as a seating area. But you need to be careful when sitting on this cooler, although its shape and height make it ideal for sitting, it is not stable and you should be careful not to fall when sitting on it.
Speaking of the durability of the lid, we should mention its thin hinges that do not give a great impression of confidence. As I said, they are thin they look weak and brittle with very little pressure.
The cover also has a rubber gasket which, according to many owners, does not provide ideal airtightness. This is another of the few negative features that negatively affects not only durability but above all the insulation.
Usability
The usability of this Pelican 20 Elite is a feature that sets it apart from many of its competitors, such as the YETI Roadie 20 and Igloo BMX 25, which is really surprising.
First of all, I will say again, its shape and height make this cooler ideal for storing tall bottles of soda and wine without any problems. On the other hand, its dimensions do not make it very ideal for storing smaller items. First of all, it will be difficult for you if you are looking for a small item at the bottom of the cooler.
However, the biggest advantage of this cooler is its "press and pull" latches, which are really very easy to use. These latches have buttons that just need to be pressed when you want to open the cooler. Specifically, when you press the buttons, you just need to pull the latches and the lid will simply go up effortlessly. And more importantly, you can do this with just one hand.
I should also mention its single top handle, which is quite robust and sturdy. When you place the cooler on the ground, the handle has the ability to stay upright. The feature that also contributes to its great usefulness is the bottle opener, which will really be used very often to open the beer bottles.
Portability
Although this cooler belongs to the class of personal coolers, it still does not meet expectations in terms of portability. First of all, there is a small indent on the back edge of the cover, so the cooler will rest better on your body while you carry it.
However, this indent does not provide greater comfort when carrying the cooler. It hits you on the legs all the time as you walk with the cooler. This can sometimes be really irritating.
Also, the single handle does not provide comfort when carrying, especially if you are carrying the cooler on your elbow. However, on the other hand, this cooler with its weight of 13.9 pounds (about 6.3 Kg) is easier to carry compared to other more massive coolers.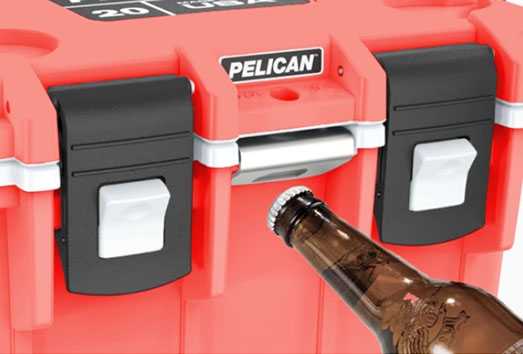 Features
If this Pelican 20 Elite is characterized by very low insulation and durability, it still comes with a few very useful features.
First I will mention the quality bottle opener that is located on the front between the two latches, then the fully molded-in tie-down slots in case you need to secure the cooler. In addition, for greater stability, the cooler also has non-slip feet.
But, I personally really like the 4 self-draining cup holders on the top cover which I think you will really love this feature. To your pleasure, this cooler can be found in 9 different colors. To my great surprise, this cooler does not have a drain plug.
Product Specification
Construction: non-rotomolded
Colors: Americana (Blue-Red-White), Americana (Red-Blue-White), Cactus Green, Canyon Red, Green/Tan, Grey Green, Seafoam, Tan/Orange, and White/Gray
External Dimensions: 18.8 inches long, 12.6 inches wide, and 17.7 inches tall
Internal Dimensions: 12 inches long, 6.7 inches wide and 14.1 inches tall
Capacity: 20 quarts (it hold 15 cans or 4 wine bottles)
This cooler weighs 13.9 pounds (about 6.3 Kg)
Value
As for the value of this Pelican 20 Elite, it does not justify the high price at all with what it offers. But if you're one of those people who often want to bring a few cans of beer, soda and a few bottles of wine when they go to the beach or on short weekends, you also don't need a cooler with high insulating capabilities and if you don't mind his high price then maybe this cooler will serve you well.
Our Conclusion
Pelican Elite 20 Quart Cooler is a personal cooler that is characterized by average insulation and durability, is very easy to use, and features several very useful features. However, it does not offer much comfort and is characterized by a high price in relation to everything it offers.
It may not be the right choice for a wider number of users, but it will be the right choice for a certain number of people who do not have the very specific needs of a personal cooler.
I hope that this Pelican Elite 20 Quart cooler review will give you the right insights so you can finally decide whether this is the right product for you or not. If you find out that this cooler doesn't suit your personal needs, then you can check our best recommendations at this moment on the market.