Welcome to my detailed Arctic Zone Titan Deep Freeze 55qt review: Is it worth investing in Titan Deep Freeze 55qt at all or not? Here you can learn more about this ice chest rotomolded cooler, which has a high price and low insulation capabilities, average portability, and slightly above average durability.
The Arctic Zone Titan Deep Freeze 55qt cooler in design does not differ much from most models. Its durability is satisfactory and offers a number of useful features. But, for a cooler that offers a capacity of 55qt, its insulation is far from expected and it can also be said that the quality and usability of its features does not satisfy at all.
First of all, its dimensions and weight have a very negative effect on its portability, in fact, if you want to carry the cooler by yourself, you will really have difficulties. Not only that, but its height also does not allow you to put wine bottles in an upright position, which is really inadequate for such a cooler.
Plus, when it comes to its price, which doesn't justify what this cooler has to offer, you'll probably think twice before investing in this cooler.
What We Like
It has great durability
Built-in Microban® protection that protects that cooler from the build-up of Bacterial odors and stains
Oversized drain plug
Integrated fish ruler
It's a perfect cooler for camping adventures on the weekends with your family or friends
What We Don't Like
Isolation is at the limit of average
It is difficult to be carried by just one person
Little bit overpriced cooler
It is a heavy product
It would be nice if the cooler comes with a bottle opener
It is available only in blue and gray color
Arctic Zone Titan Deep Freeze 55qt Cooler Review
Product Features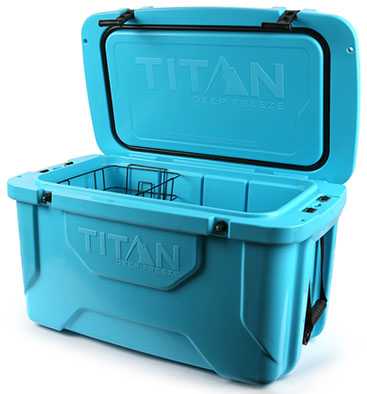 Insulation
The first thing that always interests us is isolation. First of all, this cooler belongs to the class of rotomolded coolers whose walls are filled with polyurethane insulation. However, this does not allow the cooler to stand out from its competitors with its insulating capabilities.
OK, I know you will say that on the Arctic Zone website they say that this cooler can store food safely for a maximum of 8 days. This is not true at all, more precisely on their site they claim that if the cooler is filled only with ice without any food and drink, on the 8th day in the cooler there will be still a small amount of ice, which also I don't agree.
On the other hand, they also claim that if the cooler is half full of ice and half full of food and beverages, on the fourth day you will still find some ice in the cooler.
However, you should know that it is one thing when companies advertise the isolation of their coolers, but quite other results are obtained in practice.
In fact, by FDA (Food and Drug Administration) standards, this cooler can safely store your food for about 3.9 days at temperatures below 40 degrees Fahrenheit, and while it barely manages to hold your items under 50 degrees Fahrenheit for 4.1 days.
This is slightly less than the Iglo Yukon 50 and far worse insulation capabilities than the much better and cheaper Xspec 60qt cooler which is really one of my best recommendations when it comes to features, capabilities, and price of one rotomolded cooler.
Although comparing the Titan Deep Freeze 55qt with its competitors as a cooler with the least impressive insulation, it will still successfully meet your needs for a whole weekend of camping away. However, it has the same rubber gasket, like the ones in the freezers that allows hermetic sealing.
When we talk about the isolation of this cooler from Arctic Zone, I also want to say that the colors in which this cooler is offered, which is blue and gray, have a negative impact on its insulation capabilities. It is generally known that darker colors collect more heat than lighter colors, especially white.
Durability
First of all, there is one vague thing about the durability information of this cooler. Namely, the Arctic Zone on their website claims that the Arctic Zone Titan Deep Freeze 55qt has the IGBC certificate of durability. On the other hand, the IGBC (the Interagency Grizzly Bear Committee) does not mention a single cooler from the Arctic Zone company in their list of certified coolers, which is really strange.
However, according to Arctic Zone, this Titan Deep Freeze 55qt meets all standards for bear resistance. As for its hinges, they are integrated into the housing and have excellent quality and durability which is one of the positive features of this cooler. While the latches on the cooler are made of solid plastic and close the lid perfectly.
The cooler also has non-slip rubber feet for more stable standing, but a number of owners claim that the rubber on these feet wears out much faster than expected, which puts their quality and durability in question.
Usability
Despite its shortcomings, the Titan Deep Freeze 55qt has several positive features and one of them is its usability. To better and faster drain the melted water from inside the cooler, it has a drain plug that is quite large. The opening of the drain plug is connected to a special rectangular channel inside the cooler to more efficiently flush the liquid.
It is common for this cooler to have two pairs of carrying handles, the first pair of solo carrying handles is indented deep into the cooler just below the lid, which allows a single person to easily and simply grab the cooler and carries it.
However, the depth of these solo handles has one downside and that is they significantly complicate the replacement of the second removable set of handles. And also as I said before, the low height of its shape will somehow make it difficult for just one person to carry it over longer distances.
Now, when it comes to the second set of handles, they are made of interwoven mesh plastic with rubber sleeves for better grip on your hands and are long enough for two people to easily lift the cooler and carry it to their desired location.
But, I want to mention one more thing about this second pair of handles. In fact, their length reaches the very top of the drain plug. So what I mean is that if you need to use the drain plug, you may need to raise the handle a little with one hand while unscrewing the plug to drain the water. This is not an issue that should affect the usability of the cooler, but some users may simply not like it.
We also said a while ago about latches that are made of solid, durable, and rubberized plastic but still, they do not belong to latches that are easy to handle. Specifically for locking and unlocking the cooler, you will need to use both hands and a little more force. But I don't think this is a disadvantage, because the latches securely, hermetically and securely close the cooler which is a good thing. But in the end, this will depend on a person's personal preferences.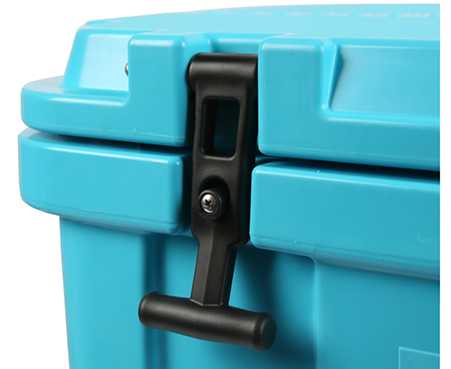 Portability
Now let's talk about its portability. First of all, this cooler has dimensions of 29.93 inches in length, 17.33 inches in width, and 16.74 inches in height. It weighs 29.6 pounds (about 13.42 kg), which is within acceptable limits for this class of cooler and does not reflect much on its portability.
Speaking of the use of solo handles, I have already said that despite their excellent design and depth for better use, the dimensions and shape of the cooler reduce the portability, which is normal for a cooler with such specific dimensions.
While the second handles provide greater comfort and convenience in their use for carrying the cooler. However, I will say again that if the dimensions of this cooler were higher and narrower, it would provide greater portability for solo carrying.
Features
As for its features, in terms of its price, it comes with not a very large number, but useful features. But let's see what you will get for the money if you invest in this cooler.
First of all, it is good that it has anti-skid rubber feet for better stability, on the other hand, a number of owners point to the poor quality of the rubber from which these feet are made.
Then its heavy-duty T-latches that are characterized by high strength and easy grip, they do a great job when you need to seal the cooler.
I really like the additional sturdy wired basket that allows you to separate the dry products from the wet ones.
You will also appreciate its built-in Microban® protection that guarantees this product a lifespan and also prevents the formation of unpleasant bacterial odors. Not only that, but Microban® also prevents the appearance of unwanted stains and allows easier cleaning of its interior.
Also to the delight of fishermen, the cooler has an integrated fish ruler on the lid so that any catch can be measured.
Then the oversized drain plug for draining the melted water quickly.
I would also like to mention once again the two pairs of handles, 360° rubber gasket and its great durability which can even withstand a sudden attack by a bear.
Product Specification
Type: rotomolded with Microban® antimicrobial protection
Insulation: polyurethane
Colors available: Blue and Gray
Exterior dimensions: 29.93 inches in length, 17.33 inches in width, and 16.74 inches in height
Interior dimensions: 22.75 inches in length, 11 inches in width, and 12.5 inches in height
Capacity: This cooler has space for 55 liters, in fact, you will be able to fill the cooler with about 30 cans, including ice
The cooler weighs6 pounds (about 13.42 kg)
My Conclusion
From this Arctic Zone Titan Deep Freeze 55qt review, you will conclude that this is not one of the best high-end coolers if you compare its overall performance and the amount of money that should be set aside for it.
However, the Arctic Zone Titan Deep Freeze 55qt cooler, despite the not so good insulation, somehow manages to offer solid durability and features with above-average quality.
But for people who don't have a lot of requirements and need a cooler for weekend parties, the Titan Deep Freeze 55qt cooler can really serve the purpose for which it was made.