If you want to know if it's worth investing in this Igloo IMX 70qt cooler then feel free to read my detailed Igloo IMX 70qt cooler review to find out all its pros and cons.
Despite the lack of insulation and portability, the Igloo IMX 70qt cooler comes with really very useful features at a very affordable price given its size and weight.
For people who often go camping for a few days and don't need a cooler with top performance to store their food and drinks, but it still offers solid durability for not too high a price, I think this Igloo IMX 70qt cooler will be a loyal companion in any outdoor adventure.
What We Like
Solid durability
A lot of features
Price
Bottle opener
4 self-draining cup holders
UV blocking
What We Don't Like
Bulky and heavy
poor design of the drain system
Inadequate length of the steel-cable handles
The ice retention time
Igloo IMX 70 Quart Cooler Review
Product Features
First of all, this Igloo IMX 70qt is not a rotomolded cooler which means you will immediately call into question its capabilities, especially its insulation and durability.
Like all models in this class, this cooler has two pairs of handles that will ensure to be easily carried by a single person and as well as by two people.
Its lid, which is perfectly attached to the body of the cooler thanks to the durable and quality built-in hinges, is really functional and easy to handle. To your great satisfaction, the lid has 4 cup holders on top.
The height of its interior allows you to freely put bottles of wine in it in an upright position. But in terms of its capacity, the Igloo IMX 70qt does not meet the expectations as advertised, so instead of the expected 70, it offers only 54 quarts (equivalent to 51.1 liters) of space inside to store your items.
However, it has quality non-slip rubber feet, easy to use drain plug attached with a leash to the cooler body, then a metal basket for storing dry products, a bottle opener, a built-in fish ruler, tie-down loops for extra security and high quality and well-known plastic locks that can hold the cooler cover perfectly closed.
This is a summary of what you will get by investing in this non-rotomolded cooler. But let's take a closer look at the advantages and disadvantages of its main features such as insulation, durability, portability, and usability.
Insulation
First of all, let's see what kind of insulation this cooler offers. According to Igloo, the Igloo IMX 70 quart cooler can hold ice for up to 7 days under controlled conditions.
But in practice, it is completely different. According to many tests and experiences of the owners of this cooler, it manages to keep your items at a temperature below 40 degrees Fahrenheit for exactly 4.8 days which is far less than it is advertised.
This somehow seems disappointing if we compare what the Igloo brand claims. It is obvious that the Igloo IMX 70 quart cooler lags far behind its competition in terms of insulation.
Also, the lack of quality rubber gasket that will keep the cooler airtightly closed, contributes to poor insulation results. On the other hand, 4.8 days of isolation is not so bad at all.
However, by using some special techniques that I have explained in more detail here, you will be able to successfully extend the isolation time of this cooler.
To increase insulation, most users do a pre-cooling of their coolers. While for a larger group of people, in addition to pre-cooling, it is also very popular using dry ice in their coolers. You can also read about how to properly use dry ice in your cooler here.
Watch the video below to see how is the ice retention of the Igloo IMX 70 qt Cooler.
Durability
In fact, although this cooler is not rotomolded, it seems that its body offers impressive durability, which is a really positive feature, unlike its insufficient insulation. And also the body of the cooler is UV resistant, so you don't need to worry if you leave this Igloo IMX 70qt cooler under the sun for many hours. This means that your items inside the cooler will be well protected from UV radiation.
But the hinges that act as the main connection between the cooler and the lid and which also play a big role in the hermetic closure of the cooler are not fully integrated into the construction of the cooler itself, which is really a little surprising to me.
In fact, according to many users, often when the lid is stretched too much, the hinges are strained and emit an unpleasant crackling sound that gives the impression of uncertainty about their quality.
Another thing that contributes to the sub-average quality of durability of this cooler is its latches. The Igloo IMX 70qt cooler uses T-shaped rubber latches, which are also the most common latches design on most coolers.
But, some users say that these latches are somehow loose and tend to stretch when used, which gives you a negative impression of their durability.
However, this does not necessarily mean that the latches on this cooler are not of good quality. In fact, the latches on this cooler faithfully perform their function for which they were designed.
Usability
Let's now say a word about the usability of the Igloo IMX 70qt cooler. First of all, what you will like most about this cooler is that the lid has 4 cup holders and a fish ruler. But on the other hand, this makes the lid not an ideal place to sit.
Another positive and useful feature is the bottle opener which is placed on the front in the middle which makes it easy to use. On the same spot where the bottle opener is, there is also a lock spot in case if you need to secure the content of the cooler with a padlock.
We mentioned a while ago that his latches are loose and stretchable. If this was considered a negative feature of their durability, however, this makes the latches easy to handle even with one hand.
One of the most negative parts of the Igloo IMX 70 quart cooler is its drain plug. This plug is considered to be one of the worst designed drain plugs that you can find in a cooler.
In fact, the drain plug is designed so that it penetrates almost more than half a centimeter inside the cooler, making it difficult to completely drain the melted water from the inside. So, whenever you drain the cooler there will always be a certain amount of liquid inside. However, this cooler boasts an additional metal basket for storing dry products.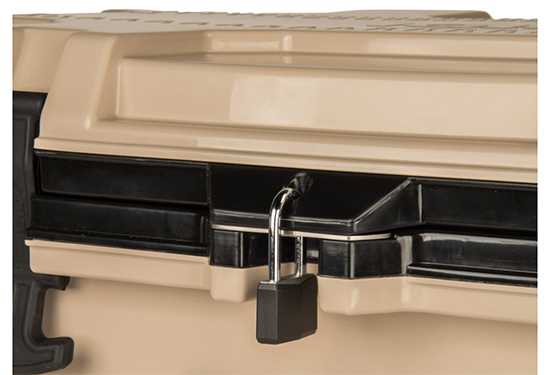 Portability
Portability is another key feature that interests us in a cooler. It is normal for a cooler of this size class that does not have wheels, the portability not to be its strong point.
First of all, the external dimensions of the Igloo IMX 70qt cooler are quite large and they are 31.11 inches long, 20.32 inches wide and 18.25 inches high, while its interior dimensions are 26.68 inches long, 14.43 inches wide and 12 inches high. As for its weight, when it is completely empty it weighs 25.8 pounds (about 11.7 kg) which is slightly lighter than the average weight for coolers of similar size.
It is normal that a cooler with such a large size will not be easily carried by a single person. However, this type of cooler is characterized by having two pairs of handles to make easy the carrying. One pair is built-in and is intended for lifting and carrying by a single person and while the other pair of handles is actually long steel cable handles intended for use by two people.
The problem with these cable handles is their inadequate length. They are longer than they should be, so when two people are carrying the cooler, they will often hit their knees from the lid of the cooler, which can be really irritating and uncomfortable.
Also, the length of these handles will bother you when you need to operate the drain plug, in fact whenever you need to unscrew the drain plug to drain the water from the inside, you have to lift it and hold the cable handle with one hand, so the handle will not stay on your way while you drain the cooler.
Quick Specification
Type of Body Construction: injection molded construction
Capacity: 70 Quarts (66 Liters)
External Dimensions: 31.11 inches long, 20.32 inches wide and 18.25 inches high
Internal Dimensions: 26.68 inches long, 14.43 inches wide and 12 inches high
Weight: 25.8 pounds (about 11.7 kg)
Model: 00049858
My Conclusion
By reading this Igloo IMX 70qt cooler review, it is more than obvious that despite its low price, you will still have to think carefully about whether to invest in such a product or look elsewhere.
So let's summarize, the Igloo IMX 70qt cooler has an affordable price, comes with many useful features that have average quality, has above average durability but its insulation, portability, usability, and capacity are far from the expectations for a cooler of this class.
I also suggest you take a look at the Xspec 60qt and Arctic Zone Titan Deep Freeze 55qt coolers which are in a similar price range but with much better overall performance.
If you are one of those who really need a cooler that offers excellent durability, portability and above all insulation, take a look at our list of the best coolers where you can choose a cooler that will best meet your needs.
But if you do not have any major requirements when it comes to insulation, usability, and portability, then this Igloo IMX 70qt cooler with its affordable price and average capacity can be a cooler that will serve you well on any occasion.