In this OXO BREW Conical Burr Coffee Grinder Review, you will learn this grinder is not as attractive and stylish as some espresso grinders in its same class. From one side it doesn't have the ability constantly to keep the perfect grind size of the coffee beans which means it is not the best grinding machine for you especially if you are a lover of espresso coffee, but from the other side this is a high-quality and durable coffee grinder that is able to consistently grind your coffee beans on the desired grind size that you will set up.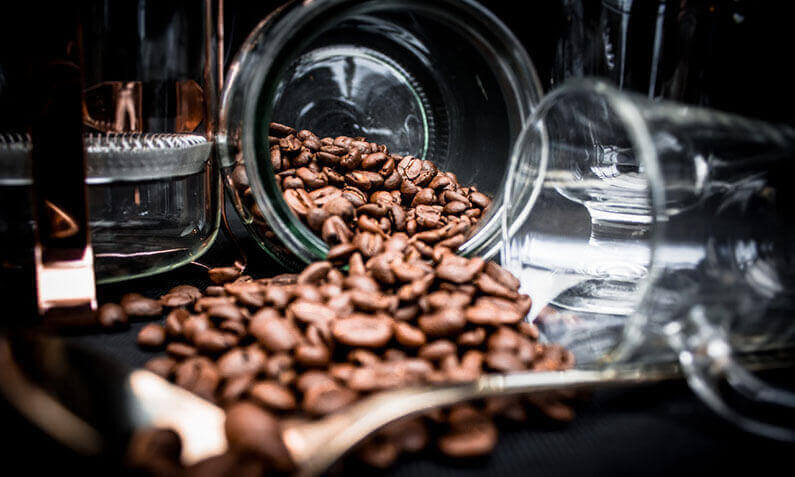 Actually, the OXO Brew Conical Burr Coffee Grinder is proven as an all-purpose coffee grinder that is able to grind enough coffee beans whether you want to prepare espresso, drip coffee or French press with accurate grind size and moreover, it is relatively easy to use and it requires low maintenance. What is practical after every use it keeps the settings which mean next time when you need again to use the grinder you just need to refill the hopper with coffee beans and make fresh ground coffee for your coffee drink.
The OXO BREW Conical Burr Coffee Grinder
This is a compact and user-friendly coffee grinder that has a performance almost as good as the coffee grinders with double price. It comes with durable conical burrs that can grind the coffee beans to your desired grind size all the time. You are able to choose one of the 15 grind settings for the coffee beans regarding what type of coffee drink you want to prepare and the brewing method you will use. Once you are happy with your settings, the next step is just to press the OXO "Start" button and wait for your coffee.
When you take a look at this OXO Conical Burr Coffee Grinder you will realize that it features with a small size, simple and stylish design, it can be easily fitted almost on the countertop of every kitchen without a problem. The hopper of this coffee grinder can hold up maximum 3/4 pounds (about 340 grams) of coffee beans and it can be sealed tight to keep the coffee beans inside. The hopper can also block the UV to maintain the freshness and flavor of the coffee. With this grinder, you can produce a maximum coffee ground for 12 cups which is pretty satisfactory for most coffee lovers. Plus a great thing is that the top burr is removable and you can clean it easily. I think this OXO Conical Burr Coffee Grinder simply, has all the features that you need to grind your coffee beans.
The Quality of the OXO BREW Conical Burr Coffee Grinder
But, to be honest, when it comes about producing coffee grinds the OXO BREW doesn't give the best results when it is used. If you want to make an incredible espresso for you or your friends, the grinder cannot produce the finest coffee grinds, for sure. Also, when you set up the grinder to produce a coarse coffee, let's say, for a French press, the size of the grinds will be not the best.
Another downside, if we can say so about this OXO BREW, is that from time to time it overheats if you are using it again and again continuously. However, the quality of the coffee grinds that are produced by this conical burr grinder is with medium quality. Anyway, if you compare the price of this grinder which is almost double less than the high-quality grinders and its performances, you will realize this is a truly remarkable and great grinder.
For Who is the OXO BREW Conical Burr Coffee Grinder?
This OXO BREW grinder is great for people who want to enjoy the flavors and true aromas from a coffee that is ground from a real conical burr grinder, which is reasonably priced and easy for using.
It has smaller dimensions than most conical grinders from the higher-class, also the airtight hopper and UV-blocking features are allowing you to keep the coffee inside the hopper for one or two days without losing the quality and freshness. When in use this coffee grinder doesn't produce a high level of noise like most of the coffee grinders.
What Else Comes With OXO BREW?
Besides the grinder also with this machine, you will receive a scoop for measuring ground coffee.
Read Also: What is the Best Coffee Machine?
Highlights of the Product
A Lot of Grind Settings
It offers 15 different grinding settings with extra micro settings between them, which give you the opportunity to choose the best coffee grinder setting for any method of brewing.
Conical Burrs
The grinder features with 40mm conical burrs that are made from stainless steel for consistently grinding the coffee beans.
Dial Timer
When you use this grinder you cannot set up for how many cups you want the coffee beans to be ground which is the case for many of the coffee grinders. Here you have a dial timer and for the grinding process you can set up how many seconds the grinder needs to grind the coffee beans depending on how much coffee ground you will need. And the great thing is that the timer will not reset after you finish with grinding the coffee. So the settings are kept for the next time when you will need again to grind a coffee.
The OXO On/Off Button
In addition to the OXO On/Off button which you can switch on and off the grinder, if you like, you can also control the duration of the grinding, it is up to you.
The Capacity of the Bean Hopper
The bean hopper has a capacity to hold about 0.75 pounds (about 340 grams) of coffee beans which is enough for 12 cups of coffee. As I said before, the bean hopper has a UV blocking filter that keeps the freshness of coffee beans when inside the bean hopper for one or two days maximum. You need to know that after two days the coffee beans will start losing the quality.
INTERESTING: Do You Know How to Prepare a Bone Dry Cappuccino?
The Main Features and Specifications
Type: Conical burr grinder
Type material: Stainless steel and plastic
A scoop for measuring coffee
OXO Start On/Off button
Bean hopper with75 pounds (340 grams) capacity
The dimensions of this OXO BREW grinder are 7.4 inches length, 5.2 inches width and 11.8 inches height
The weight of this grinder is 4.5 pounds (about 2 Kg)
What We Like
Easy to operate
Simple and friendly design
It keeps your settings
it doesn't produce a lot of noise
UV filter and airtight bean hopper
The size of the bean hopper
15 grinding settings with additional micro settings for micro adjustments
Suitable for French Press, Aeropress, and Drip Coffee
Affordable price
What We Don't Like
It doesn't have consistency in producing a coarse grinds coffee
It would be nice if this coffee grinder features with a cord wrap
Sometimes it's overheating
It is not able to produce a fine grind coffee for espresso
Conclusion
In this OXO BREW Conical Burr Coffee Grinder review, it is obvious that you will realize it cannot produce consistent coffee grinds when you need to grind the finest coffee for espresso and as well to grind the coarsest coffee for brewing other types of coffee drinks like for example French press, Drip Coffee or Pour Over. But, in the end, this is a durable and high-quality product, plus to mention its simplicity of using and easy maintenance and if you take into consideration the price of this product compared with the other coffee grinders from the same and higher class, this coffee grinder really is worth buying.
CHECK: Do You Know What is the Difference Between Espresso and Coffee?