If you want to learn more about grizzly 75-quart cooler then you should read our detailed Grizzly 75 Cooler review.

First of all, the insulation of the Grizzly 75 Cooler is not at a very high level as expected from it, but it is still on the verge of satisfactory.
Its portability will also not impress you, and the main reasons are its base weight of 33 pounds (almost 15 kg) and its uncomfortable carrying handles that will make you feel very uncomfortable and some pain on your hands during its transport.
On the other hand, this Grizzly features fantastic durability, which is characteristic of this brand. But if durability and insulation are really your priorities when choosing a cooler, then I suggest you consider the RTIC 65 cooler which is really durable like this Grizzly 75 but with much greater insulation and much more affordable price.
What Grizzly offers in this model is not at the level in the price range that should be set aside for it. But it depends on you, your personal preferences and the budget you have.
What We Like
Great durability
Easy to use
It comes with two drain plugs
The cooler is made in the USA
Non-slip rubber feet
The three rubber latches that secure the lid
What We Don't Like
Its price
Low insulation
The uncomfortable carry handles
Low portability
Grizzly 75 Cooler Review
Performances and Features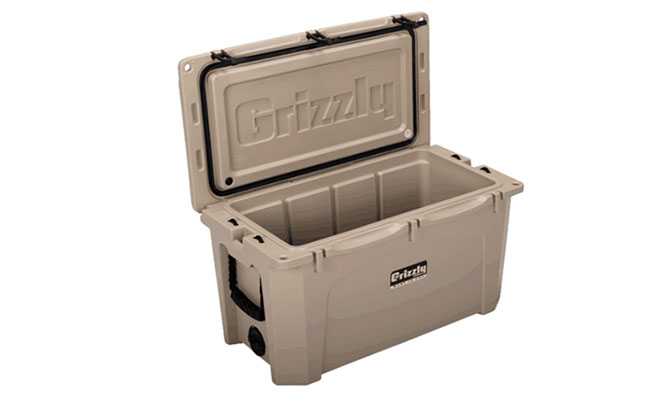 Insulation
One of the most important things expected of a cooler is to have excellent insulation. As for this Grizzly 75 Cooler, you will be really disappointed. He is only able to keep food safe for three whole days, which is very surprising for a high-class cooler. This is one day less than a few times cheaper Coleman Xtreme cooler.
But, when it comes to ice retention, it's 5 days, which is just one day more than the much cheaper Igloo BMX 25. This is slightly less than the insulation level of coolers with average insulation performance. With these insulating capabilities, this Grizzly cooler is not the right choice if you want to camp for more than a weekend.
So, if you are planning to go camping in a week or so, regarding the insulation that this cooler offers, definitely it should not be your right choice.
Durability
But if isolation is already its weakest point, then things are quite different when it comes to endurance. Grizzly 75 quart cooler housing is characterized by high durability, and the same goes for its hinges and latches. In addition, this model has a large drain plug that can effectively drain the liquid from inside the cooler.
But there is a small problem with the size of the drain plug opening. When you want to drain water from the inside, you are more likely to lose larger ice cubes. Also, the cover closes the cooler very tightly, which does not allow the liquid to leak from the inside, which is really impressive.
Ease to Use
Let me now say something about usability. The lid of this cooler cannot be opened fully 90 degrees, but it has the ability to stay in an open position. So, you don't have to worry about whether the lid will accidentally close down itself.
Grizzly Cooler 75 Quart is one of the few models that have 3 rubber latches that secure the cover in the pull-down style. By using these rubber latches, you can easily without any effort lock and unlock the lid anytime.
But, when it comes to draining water, you need to be careful when you are unscrewing the plug because the moment you remove the plug, there will be a splash of water. The drain plug in this Grizzly has one negative feature and that is the tendency to stick often so that when you want to unscrew it you will need to put a little more force.
Otherwise, the drainage of water from the cooler will take place quickly because the drain hole is large. Also, due to the size of the drain hole, you can often lose larger pieces of ice cubes when draining water from the cooler. Despite these minor flaws, I think this Grizzly 75 cooler is pretty easy to manage.
Portability
In addition to isolation, another thing that will disappoint you with this cooler is its portability. The biggest reason for this is the design of its carrying handles. In fact, the handles are ropes made of semi-rigid rubber wrapped in nylon sleeves that make them very uncomfortable to use.
Many owners of this Grizzly often complain that when they move the cooler over longer distances, the handles cause pain and redness of the skin on their hands. This makes the cooler really inconvenient to transfer to a specific location.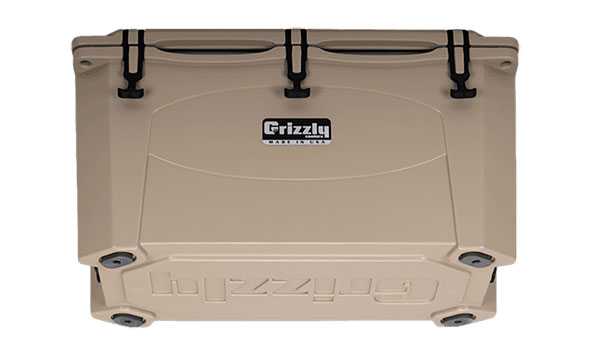 Features
This cooler does not have any additional special features but as I said before about this cooler and that you can rarely see it in most coolers is that it has three rubber locks that help the lid to be tightly closed.
Another thing that will pleasantly surprise you is that instead of one it has two two-inch draining plugs one on each side. So this will drastically speed up the draining of the cooler.
Also, worth mentioning, it has slots for dividers that will help you better organize your items. Along with this cooler, you will also receive a basket for dry items. As with most models, this one has non-slip rubber feet, a scale for measuring the length of your caught fish, which is usually at the top of the lid. As for the capacity of this 75 quart Grizzly Cooler, it can hold about 20 liters of ice and about 84 twelve inch cans.
Our Conclusion
This Grizzly 75 has a pretty good design and is characterized by exceptional durability, which is expected from a high-class cooler with a roto-molded body, but surprisingly very low insulation and portability.
From this Grizzly 75 cooler review, you will conclude that this is a cooler that offers average performance for a very high price which is incomprehensible for a high-end model.
But, if you really need a high-quality cooler with a good balance of price and performance, I recommend you take a look at the Yeti Tundra 65, ORCA 58 Quart and RTIC 65 models. Also, you may check our other cooler reviews here.